爱尔兰政府举办的官方在线留学展,助你实现留学爱尔兰的心愿。
展会内容
在线提问、在线答疑、获取帮助
与爱尔兰顶尖高校一对一交流。
实时研讨会
了解签证申请、学校申请流程,爱尔兰留学生亲自答疑。
各种留学课程供你选择
从短期进修到研究生学位课程,一应俱全。
为了让中国学生更好的了解到新一年爱尔兰留学的一手信息,爱尔兰教育推广署特别为同学们安排了中国区线上研讨会。 爱尔兰教育推广署将联合爱尔兰知名高校携手自媒体平台大咖,齐聚直播间,畅聊爱尔兰高校申请秘籍,有趣及令人向往的留学生活,真实的就业体验。干货满满,欢迎报名参加!
研讨会时间:
10月5日 晚17:00 – 19:00
研讨会直播平台:
视频号:"爱尔兰留学指南"
微博:爱尔兰教育推广处
扫描识别下方二维码了解活动详情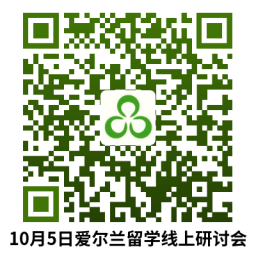 不容错过的机遇
免费注册 - 爱尔兰政府专为亚洲学生举办的官方留学展。
在线交流 - 和顶尖高校一对一交流,参加研讨会,与专家交谈。
发现机遇 - 了解签证申请流程以及如何申请毕业后两年工作签。
巩固留学计划 - 重新检查自己的留学计划,跟踪获取心仪高校相关信息。
递交留学申请 - 留学爱尔兰、实现梦想。
现在就注册!
和顶尖爱尔兰高校进行交流。
Education in Ireland is the national brand under the authority of the Minister for Education and Skills and is responsible for the promotion of Irish Higher Education Institutions overseas.
If you want to study in Ireland, you may need a visa. We will guide you through the application process.
Celebrating our 50th Anniversity this year, AIT has been ranked Institute of Technology of the year 2020. The institute is home to 6,000 students undertaking a broad range of programmes in the domains of business, hospitality, engineering, informatics, science, health, social science and design. More than 11% of the full-time student population come from overseas, reflecting the globalised nature of its campus.
CCT College Dublin is one of Ireland's leading independent institutions specialising in Computing, Information Technology, and Business, in the heart of Dublin city centre, CCT is home to a vibrant community of staff and learners from around the world. Study internationally recognised Undergraduate Bachelor, and Postgraduate Masters Degree and Higher Diploma courses in technology areas including Software Development, Data Analytics, Artificial Intelligence or Business Management.
Dublin Business School (DBS) specialises in the provision of career focused business and law education as well as the delivery of contemporary programmes in the areas of arts, media, social science, humanities and psychology. This is an exciting time for you as you lay the foundations for the rest of your life. At DBS we will do all that we can to help you to make the right choices for your future and a programme of study at DBS will give you the best possible start in your career.
Established in 1980, DCU Dublin City University (DCU) is one of the best young universities in the world as ranked by the QS Top 150 Under 50 and the Times Higher Education Top100 Under 50. We have a proud tradition of world-class academic excellence, research and innovation.
Free accommodation scholarships for Latin American Undergraduate Students. Study in Europe.
GMIT is a diverse, Government funded institution situated on the 'West Coast of Ireland' along Ireland's 'Wild Atlantic Way', with nearly 8,000 students, spread across five locations in counties Galway and Mayo. GMIT offers dedicated scholarships for international students across a broad range of disciplines.
Griffith College is Ireland's largest independent third level institution with locations in Dublin, Cork and Limerick. The College has gained an enviable, award winning reputation for providing students with first-class lectures and excellent study material.
Celebrating its 50th Birthday, the Institute of Technology Carlow is located one hour from Dublin and is one of the largest Institutes in Ireland offering Foundation, Degree, Masters and PhD programmes across a range of disciplines including Science, Business, Engineering, Humanities and IT.
Limerick Institute of Technology, twice named 'Sunday Times University Guide' Institute of the Year, is home to over 6,500 students across five vibrant campuses in Limerick city, Thurles, Clonmel, and Ennis. LIT graduates are highly employable, not only do they graduate from LIT with a degree relevant to their field of study but thanks to the institute's practical approach to learning, they also possess the necessary skills and experience that employers look for.
Mary Immaculate College (MIC) is Ireland's leading College of Education and Liberal Arts and home to a growing and diverse community of just under 5,000 students from all over the world. MIC offers an affordable, internationally recognised and high quality education in undergraduate and postgraduate programmes. Contact us today-say hello to Ireland, hello to MIC, hello to your future!
Maynooth University (MU) is an internationally recognized institution located 25 kilometers outside of Dublin, Ireland. With over 13,000 students from more than 95 countries, MU is the nation's fastest growing university. MU offers a range of programs at undergraduate, Master's and PhD level in the humanities, science and engineering, and social sciences, including business, law, and education.
Munster Technological University is a multi-campus technological university, established in Jan 2021 after a merger between the Cork Institute of Technology and the Institute of Technology Tralee.
New Start? Join us in Dublin! Study a world recognised degree programme. Live in the most dynamic capital city of Europe. Work for a global company as you kick start the career of your dreams.
RCSI University of Medicine and Health Sciences is the largest medical school in Ireland, offering undergraduate degrees in Medicine, Pharmacy and Physiotherapy.
Shannon College of Hotel Management is a college of NUI Galway. The College is quite unique; its Irelands only dedicated College of Hotel Management; it has a distinctive structure with emphasis on professional practical training, international work placements and a strong business education.The College was founded in 1951, it have maintained a 100% employment record on graduation day for all undergraduate students.

NUI Galway has been inspiring minds since 1845 as a research-led university. Ranked in the top 1% of Universities Worldwide by QS, we have 70 undergraduate programmes and 170 postgraduate programmes. Home to almost 4,000 International Students, from 110 different countries, making us the most international university in Ireland. We are one of the oldest and largest universities in Ireland.
Technological University Dublin (TU Dublin) is Ireland's first Technological University; where the arts, business, sciences, engineering and technology converge. With 28,500 students from 138 different countries and 3,500 staff across three campuses in Irelands capital, Dublin. A new city campus is being developed on a spectacular 73-acre site in central Dublin. This is the largest higher education development project in Europe.

Founded in 1592, Trinity is one of the world's leading universities, ranked 101 worldwide (QS 2021) and the number 1 university in Ireland. It was modelled after the collegiate universities of Oxford and of Cambridge. Trinity offers an exceptional research-led educational experience with courses ranging from all sorts of engineering and biology and biomedical science specialisations to law and literature.
UCC is a comprehensive, research-led university and is a constiuent member of the National University of Ireland (NUI) network. Founded in 1845, it consists of four faculties, or Colleges, which offer a world-class education in medicine & health, the sciences, humanities, business and law.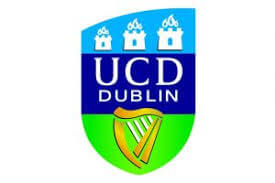 UCD is one of Europe's leading research-intensive universities; an environment where undergraduate education, masters and PhD training, research, innovation and community engagement form a dynamic spectrum of activity. UCD is also Ireland's most globally engaged university with over 30,000 students from over 139 countries
The University of Limerick (UL) is renowned for its graduate employability, dedication to the student experience, industry-relevant programmes, award-winning research, stunning campus and UL's deep commitment to community engagement. With close to 17,000 students, including 3,000 international students, UL is a young and enterprising university with a proud record of innovation in education and scholarship.
Established in 1970, Waterford Institute of Technology is the largest of the Irish Institutes of Technology outside of Dublin and is generally regarded as the most innovative and progressive institution. The range of academic programmes is very wide covering Humanities, Health, Science and Informtation, Engineering, Business and Education.
Previous
Next
在展会上能获得哪些信息?
在爱尔兰在线留学展上可获得哪些课程信息?
下载留学展指导手册,了解详细课程信息。
小贴士: 在展会开始前,建议提前列出自己感兴趣的高校名单,有针对性地交流。
Aeronautical Engineering / Aircraft Maintenance
Chemistry / Chemical Engineering
Computer Science / Engineering / IT / AI
Civil Engineering / Architecture / Construction
Data Science / Analytics / Cyber Security
Education / Early Childhood Learning
lectric & Electronic Engineering
Film Making / Music / Drama Studies
Food Science / Food Technology
Courses & Universities
What does each university offer? How are they different? Find the right fit for me?
Financial Advice
How much will it cost? How can I get student discounts? What scholarships are available?
isa Application
Do I need a visa? Where and when should I apply? What documentation will I need?
Health & Safety
Do I need insurance? Where can I get it? is it safe? What's their COVID-19 plan?